In the world of proxies you come across various types of servers that vary by their functionality and methods of data transfer. If we consider proxies by location, then we have residential and datacenter servers. And by the type of operation proxies can be rotating or static. But when you see HTTPS or SSL proxies you should know that here the name refers to the protocol of the proxy server.
The abbreviation SSL stands for Secure Sockets Layer and it indicates that such a proxy uses HTTPS protocol for data transfer. By the way, HTTPS stands for Hypertext Transfer Protocol over SSL and describes the protocol that became a de facto standard for Internet security over the past several decades.
Definition of SSL Proxy and How It Works
So, what is an SSL proxy server and how do residential proxies work on this protocol? An SSL Proxy is a proxy server that uses SSL/HTTPS protocol for secure data transmission over encrypted channels. Now, let's consider how an SSL proxy works. To provide extra security of the data transfer an SSL Proxy uses the SSL Layer to encrypt traffic between the endpoint (your device) and the website you are trying to access. This is a process similar to accessing a website holding an SSL security certificate. All of this is required to set up a secure HTTPS connection for data transfer.
So, when you buy a residential proxy based on SSL protocol you will have a proxy that essentially emulates server certificates to validate the identity of the web server within the browser. Then the proxy uses SSL keys to encrypt and decrypt the data during transmission.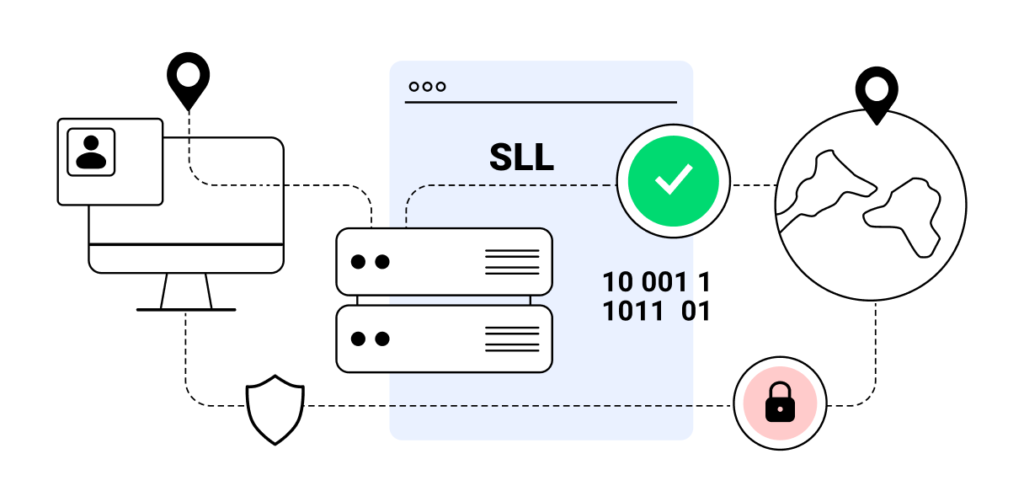 Use cases of SSL Proxy
Below we decided to place some of the most common use cases of SSL proxies for your consideration (these can be seen as advantages of an SSL proxy server in its day-to-day operations over a regular proxy):
Gaining access to blocked sites
If a website or social network is blocked for viewing in your geographical area or country, you can use an SSL proxy to grant access to such a resource. So, if you want to watch your beloved TV show on Netflix or listen to your tunes on Spotify without limitations, you might want to consider using SSL proxies. In this case, you will greatly benefit from the use of residential static proxies to bypass geo restrictions.
Overriding country restrictions
Some sites or services are banned for accessing by your ISP (Internet Service Provider) due to corporate or even government policies. You can use SSL proxies alongside VPNs to gain access to blocked sites from areas with Internet limitations.
Enabling secure connections
One of the top reasons to use SSL proxies is to ensure total prevention of leaked data when engaging SSL protocol for data transfer. The encryption involved in the process guarantees that the data being transferred will not end up in the wrong hands.
Providing extra anonymity
Of course, ensuring anonymity of your IP is what proxies are used for in the first place. Think of SSL proxies as the ultimate guarantee of your IP anonymity when it comes to data harvesting.
Safer web scraping
When you want to engage in market research of major marketplaces for gathering statistical or other types of information for analytical purposes, you want to make sure that your data harvesting will not raise some red flags for being confused with a DDoS attack. SSL proxies come extremely handy here for allowing safer and more reliable web scraping without getting noticed by the sites' inhouse antispam systems. Fast scraping can be also executed through the use of rotating proxies based on SSL protocol for higher security.
Managing social media
Companies use SSL proxies as great aides for managing their social media accounts on Twitter, Instagram and Facebook. This way the use of social media becomes more secure and anonymous to prevent any possible leaks for private information into the public arena.
Shopping for exclusive items
SSL proxies are also a great choice if you want to participate in shopping for a limited collection of footwear during a drop. In this case you will need to buy an SSL proxy closer to the servers of foot sites you are targeting for more efficient online shopping.
Benefits of Using SSL Proxy
Two major benefits of SSL proxies are extra safety in use and improved anonymity. All of this is the result of encryption/decryption: the data is not transferred in a plain form like in the case of regular proxies. SSL protocol ensures that all the data (be it secret or confidential information) is encrypted and cannot be made readable by a third party.
Extra safety of SSL proxy
All the traffic between the request originator and the target website is encrypted using the SSL protocol in case of SSL proxy application. This, in turn, provides extra protection against any third party that may redirect or otherwise gain access to the data (Internet Service Providers, hackers or government institutions). Even if the traffic is intercepted it will still be properly encrypted by HTTPS protocol, which is not the case with the plain HTTP proxy.
Anonymity of SSL proxy
Just like with any proxy server (residential or datacenter proxy), your IP address is hidden with an SSL proxy application. But with the use of SSL protocol the anonymity rate is improved due to limited information about you during information requests. So, SSL proxies are always a better, safer and more secure option when you need to hide your IP.
Select PrivateProxy as Your Reliable Proxy Partner
If you decide to use SSL proxies in your online missions, Privateproxy will be proud to provide you with the best SSL proxies in the industry. We have over ten years of expertise in supplying various types of proxies to customers and software developers all over the World. Alongside with SSL proxies, we can also supply special proxies for VPN, as well as highly secure rotating datacenter proxies for critical online missions. You can also buy a social media proxy that will be an ideal proxy choice for harvesting data from social media.
We carefully study each proxy use case and provide customers with exactly the right proxies for the operation. And, of course, we ensure 24/7 technical support to all our customers, which is extremely important for addressing any types of issues related to proxies.
In Conclusion
If your online mission involves working with critically sensitive information or you need extra guarantees for data security your clear choice will be with SSL proxies that will ensure encryption of your traffic all the way from the target website. If you still have any questions left after reading this article about SSL proxies and the way you can use them, make sure to write them to us through the intercom in the right-bottom corner. We will gladly respond with a comprehensive answer on the subject.
Rate this article, if you like it:
Frequently Asked Questions
Please read our Documentation if you have questions that are not listed below.
What is an SSL proxy?

The following is an explanation of an SSL secure proxy setup. So, what is an SSL secure proxy? It is a proxy server that operates on the HTTPS/SSL (Secure Sockets Layer) protocol. It allows not only to hide the IP address of the requesting party but also to encrypt the traffic between the user and the target website. It is generally considered a more secure type of proxy solution.

How can an SSL proxy hide my data?

When SSL protocol is engaged on a proxy, all data between the user and the target will be encrypted. This way you will have extra benefit in terms of authentication and security in case of any data breach. Your data will be absolutely safe and you will not have to worry about any information leaks to the third party.
Where can I use an SSL proxy server?

Just like any good private proxy an SSL proxy will be a great choice in proxy missions that not only require concealing your IP but also ensuring the traffic security against the third party. So, you can definitely use the advantages of an SSL proxy in one of the following cases:
- Gaining access to blocked websites
- Overriding country-based restrictions
- Scraping social media accounts
- Supporting and managing social media accounts (multiple logins supported)
- Shopping for exclusive items online.
Get 100% Clean DC & Residential Proxies
Contact Us