It is always a very tricky question about what type of proxy would be right for you. Especially, if we are talking about protocols that the proxies are running on. With Socks5 proxies you can be sure that you are using the top-of-the-line servers that the industry has to offer.
Technologically Socks5 proxies are more advanced than their HTTP(S) and Socks4 counterparts. They can be used for a whole variety of purposes, including highload and high speed torrenting and video streaming, web scraping, and accessing otherwise restricted content.
In this article we will uncover the technology behind the Socks5 proxies, show you how these IPs are different from other types of proxies and present to you the best Socks5 proxy list encompassing the market leaders with the best deals.
Meaning of SOCKS5 Proxy
Socks5 proxy is a proxy server running on Socket Secure protocol. It is a protocol that allows high speed data transfer from one device to another via a third one. In our case it would be a private Socks5 proxy. The main advantage of Socks5 lies in its popularity. It can be used with all the popular computer languages and frameworks and not limited only to HTTP traffic. So, think of Socks5 proxies as a versatile solution that would be perfect for all sorts of applications including web scraping, data or video streaming and gaming.
How Does a SOCKS5 Proxy Work?
Just like with all types of proxies, the principle of IP replacement by a middleman server remains the same. So, a Socks5 proxy server forms a connection between you (the client) and the remote website. The traffic runs through an IP assigned by the proxy before the destination website is reached. The transport protocols for the data are UDP or TCP.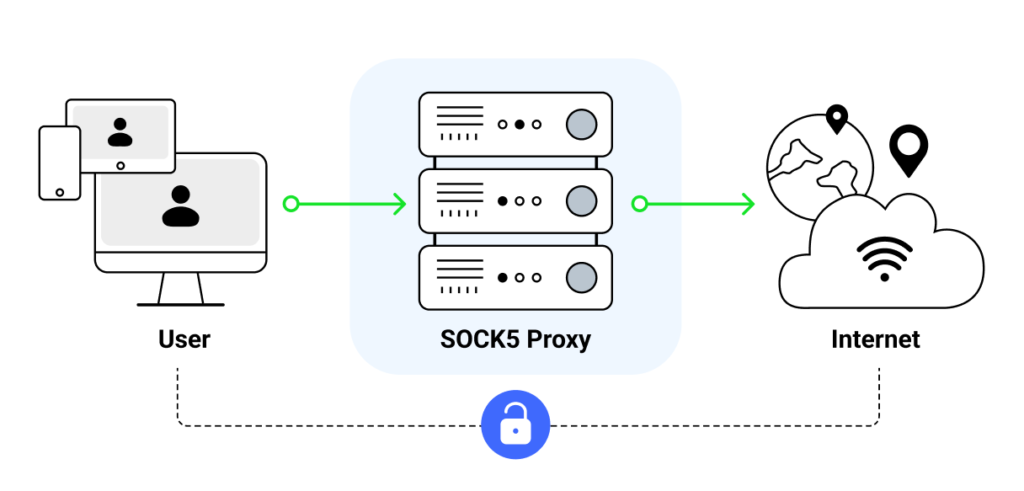 We will cover the advantages and disadvantages of Socks5 proxies later, for now let's consider the main difference between Socks5 IPs vs Socks4 and HTTP(S) proxy servers.
Comparing SOCKS5 to SOCKS4 Proxies
If we compare Socks5 to its older version Socks4, we will see the technological gap between the proxy protocols. The proxies based on Socks5 now support IPv6, thus increasing the number of possible IP addresses. Also, the proxy authentication options have been enhanced and the UDP protocol support became available with the introduction of Socks5 software. Before, only TCP protocol was supported.
And, how does this change the proxy domain? First, with UDP in place, many video streaming sites and games hungry for high-bandwidth channels are now supported. This makes Socks5 proxies perfect for such applications. And the new username + password authentication combo makes such proxies very easy to set up in most apps and browsers.
SOCKS Proxies vs HTTP Proxies
The name itself says it: HTTP proxies are meant for targets supporting HTTP(S) protocols, i.e. websites. Plus, HTTP proxies apply tunneling (packing data) and caching (buffering information) to the traffic they process or transmit. Where Socks5 processes all network traffic without sending it all to the user. This reduces the risk of detection and increases the speed of connection.
And, if we have to directly compare Socks5 vs HTTP proxy, one can say that a Socks5 server is far more versatile than an HTTP one. You can work with Socks5 proxies from all sorts of applications and content. One thing you need to make sure is to have your ISP leave ports besides 80 and 443 available for you. Otherwise, your Socks5 proxies will behave similarly to their HTTP counterparts.
How You Can Use the SOCKS5 Proxies
Now, let's consider the main areas of application of Socks5 proxies.
Provide access to geo restricted contents – If you want to bypass geo restrictions, Socks5 proxies will be your ideal choice for this mission. You will be able to come around firewalls and access otherwise unreachable websites.
Conceal your real IP – just like with any proxy, you will be able to use Socks5 proxies for hiding behind a different IP. And Socks5 proxies do this work immaculately. It makes these IPs perfect for all sorts of web scraping missions.
Arrange video calls and conferences – if you need a proxy for Zoom, Skype or Telegram calls and group conferences, a premium Socks5 proxy will be your best choice, since it is meant to work with video transfer protocols and supports high bandwidth connections.
Access streaming websites – once you decide to stream videos from restricted sites, a private Socks5 proxy will be there for you to make it possible. Twitch users also love these IPs and use them as Twitch proxies for providing uninhibited connection to their beloved site.
Enjoy great torrenting experience – Socks5 proxies are compatible with all popular torrent clients like uTorrent. Peer-to-peer downloading has never been that safe and easy.
Pros and Cons of SOCKS5 Proxies
Alright, now we are ready to talk about the pro's and con's behind using Socks5 proxies. The table below should prompt you if Socks5 proxies are right for you.
PROS
CONS
All types of traffic – Socks5 proxies can be used with all kinds of data traffic and not just with HTTP(s) web pages.
Better performance – Socks5 proxies can be used with high-load and high-bandwidth applications. They are designed to handle lots of traffic.
Improved anonymity – The level of anonymity of Socks5 proxies is improved over other types of anon proxies. No information about your original IP is disclosed to the target site and your presence on it is untraceable back to you.
No encryption – unlike VPNs, Socks5 proxies do not encrypt your traffic and should not be used for transferring sensitive data.
No ubiquitous software support – some applications do not support Socks5 proxies. However, it is a rare case, you check for the software compatibility before using them.
Pricey solution – Socks5 proxies are normally priced above other types of proxies like HTTP(S) ones.
7 Best SOCKS5 Proxies
We have compiled this list of the most popular Socks5 providers. All of the companies included here have an extensive presence in the industry and boast positive reviews from the proxy users worldwide.
1. PrivateProxy
PrivateProxy features over a decade of experience in supplying the best-in-the-market proxies to its users worldwide. This provider has vast pools of datacenter and residential Socks5 proxies from a variety of geographical regions spanning all countries and continents.
If you have some specific scraping or streaming mission requirements, PrivateProxy is all about choosing the right proxy type for your use case. And the company also offers easily approachable tech support to get all your direct questions answered in live mode.
The customer support of qualified account managers is available to all users of PrivateProxy round-the-clock, so you will never be left alone in the dark.
Summary: Proxy provider with unmatched customer support in the industry.
Locations: Major cities around the World.
Support: 24/7 qualified tech support.
Price: from $5/month for Socks5 residential IP. Trial available for most use cases.
2. Bright Data (Luminati)
Bright Data is a well-known name in the proxy World. This provider is famous for featuring the whole range of proxies and one of the best Socks5 software tools to handle them.
Basically, if you need good Socks5 proxy services, you will definitely be able to find the right configuration of IPs here. You will be able to go for shared or private IPs depending on your budget requirements. The provider also features flexible payment plans. You can pay as you go or get a package of X number of proxies for a fixed monthly rate.
Summary: Multiple proxy types of safe Socks5 proxies for business purposes.
Locations: Most counties around the World.
Support: 24/7 global tech support.
Price: depending on requirements. From $15/GB for residential proxies or a monthly plan for $300.
3. Oxylabs
Oxylabs can be your one-stop-shop for the best Socks5 proxies to buy if you want to have a large pool of proxies for business purposes. With over 2 million IPs in their network, you will have plenty of proxies for any kind of scaling mission. These IPs are spread out across 80 locations worldwide, which also can be pretty useful for geo-related web scraping. Oxylabs supplies a proprietary tool for rotation proxies and features a 24/7 tech support to all of its users.
In terms of meeting your budget requirement, the offering from Oxylabs can be a bit pricey if you are looking for just a few IPs. From the perspective of business targeting, Oxylabs appears as one of the top enterprise-level Socks5 providers.
Summary: Great source of premium Socks5 proxies for business.
Locations: 80 counties around the World.
Support: 24/7 enterprise-level tech support.
Price: from $180 for 100 IPs in the USA, trial period available for business users.
4. Smartproxy
Smartproxy is a Socks5 private proxy provider that would be perfect for those businesses and individuals trying to source good datacenter proxies. The provider features virtually endless pools of such IPs with rather convenient proxy replacement plans. You can find datacenter, residential and mobile Socks5 proxies for all possible locations around the Globe.
Also, you will be able to swap proxies without any charges within one month if a server goes sour.
As far as the pricing policy, the provider offers flexible plans for any kind of pool from $10 per month (for 100 IPs).
The biggest limitation for international players will be the residence of such networks. All pools of Smartproxy are US-only.
Summary: Good deals for US-based Socks5 proxies.
Locations: USA only.
Support: 24/7 tech support by live chat or email.
Price: from $10 for 100 IPs in the USA, 3-day money-back guarantee.
5. Rayobyte
Rayobyte, formerly known as Blazing SEO Proxy, specializes in providing fast-performing servers of various configurations supporting Socks5 protocol. It features rather hefty global coverage of locations of its dedicated datacenter IPs scattered around 27 countries. One of the benefits that Rayobyte offers is full control over its hardware pool based in its own data centers.
As for the pricing plans, we can state that the offerings are affordable with $2.50 per IP (when you buy 5 IPs) of dedicated proxies to start with.
On the downside, Rayobyte offers a very limited number of residential IPs when compared to its competition.
Summary: Fast, yet rather cheap Socks5 proxies.
Locations: 27 countries worldwide.
Support: 24/7 customer service.
Price: from $2.50 per IP (for 5 IP package), proxies outside of the USA are more expensive, 2-day free trial available.
6. Lime Proxies
What is so special about Lime Proxies is the onboarding process the company offers. They not only sell you a package of dedicated Socks5 proxies but go all the way as far as showing you how to work with their IPs as a part of their trial process.
Their enterprise support is also available 24/7, so you can clearly depend on it in case of any issues with the servers.
As far as pool sizes, they are also pretty impressive (in the millions of IPs from 50 geo locations) and the company claims to have over 5000 happy business customers on their lists.
Summary: Good Socks5 proxies from people with great customer support.
Locations: 50 locations worldwide.
Support: 24/7 customer support.
Price: from $25 per month (for 10 IP package), proxies outside of the USA cost extra, 3-day free trial available.
7. Soax
Soax has a great selection of all types of top paid Socks5 proxies for its users. You can go for residential, datacenter or mobile IPs of your choice.
The fact that their pool has over 8 million IPs worldwide leads us to believe that you will have plenty of options to swap your proxies if something goes wrong with your servers. What is also impressive is the list of cities, countries and locations that can be topical for your scraping or streaming missions. Most advanced plans feature unlimited bandwidth and this is also a good thing to have.
As far as the pricing goes, you can start working with SOAX for as low as $99 a month. It will get you 2 IPs and 8GB of traffic on 300 ports. A 3-day trial for new users is also available.
Summary: Great solution for businesses looking for unlimited bandwidth on Socks5 proxies.
Locations: 8.5 million IPs covering all locations worldwide.
Support: 24/7 customer support.
Price: from $99 per month (for 2 IP package, 300 ports), 3-day free trial available.
Why You Shouldn't Get Free SOCKS5 Proxies
First of all, let's make it absolutely clear that a free Socks5 proxy that you can source online from a list of free proxies and an IP that you can get from a reliable proxy provider  for trial purposes before you actually buy proxies are two drastically different things. 
With the former you have pretty much all the chances of getting banned as soon as you start using a shared IP from an undocumented list and, what's even worse, leak your personal information for further processing by such "free proxy providers".
Where, with a carefully picked Socks5 proxy given you for trial, based on your geo location and bandwidth requirements, you will be able to test the performance of proxies from a given provider and build a subjective opinion about the quality of such server and the overall customer service of the provider.
So, the bottomline is simple: if you want to subject yourself to a painful operation with questionable IPs you got for nothing, it is your own choice. But wouldn't you rather gain some good experience in the first place and get a clear idea what you will be paying for if you settle with some trusted Socks5 proxies? It is for you to decide, after all.
Consider Buying Top Proxies by Privateproxy
When it comes to selecting a private proxy provider for your online missions you can ask yourself two very simple questions: are we ready to invest in serious proxy solutions and can we make sure our provider will be with us in case we need any live support with the IPs that we bought?
And, while the issue of pricing is something that the IT market solves for you almost automatically. Meaning that we are always offering the best price-to-quality ratio on all of our Socks5 proxies due to extremely tight competition. The long-term trust has to be earned by each provider by treating its customers with great respect and support over the whole lifetime. And this is what makes us stand out! We are totally about long-term relationships with our customers secured by one of the best customer support teams in the proxy industry.
But we don't want you to take our word for it! Reach out to one of our account managers with your own plan to use Socks5 proxies and we will make sure you enjoy what we have to offer!
Rate this article, if you like it:
Frequently Asked Questions
Please read our Documentation if you have questions that are not listed below.
Can I Use SOCKS5 Proxies for Web Scraping?

Of course. Socks5 proxies are perfect for scraping all types of web resources for SEO, lead generation or ad verification purposes. You can also use them from inside apps and bots without directly integrating them into your browser.

Where can I find SOCKS5 proxy?

You can easily source Socks5 proxies from the top tier providers of private proxies. We have a whole line of packages for various locations worldwide of datacenter and residential Socks5 proxies for your use cases.

Can I Buy Residential SOCKS5 Proxies?

Absolutely! Socks5 proxies can be residential, datacenter or mobile IPs. So, if you have some specific requirements as far as the location of your proxy IPs, you can certainly get residential Socks5 proxies for the locations you need.
What are the benefits of using SOCKS5 proxies?

The main advantages of Socks5 proxies are the high performance that they demonstrate pertinent to their protocol characteristics and top reliability when it comes to overcoming or overriding geo blocks and other types of IP-based protection online.

Is SOCKS5 proxy safe?

If by "safe" you mean that none of your personal data is leaked to a third party, then yes, a Socks5 proxy from a reputable provider will always be safe. Unlike "free" Socks5 proxies, that will likely turn you and your data into a product and jeopardize your whole online operation.
Get 100% Clean DC & Residential Proxies
Contact Us