Taking part in paid surveys can be a good side gig for some people who want to earn an extra coin online. Although, the criteria for participating in some of such surveys are very strict and you have to match the website's requirements. One of the main selection conditions is your physical or geographical location. And if you live outside of the specific area, your application may be rejected saying: "Sorry, you do not match the survey requirements".
So, how do you go around this hurdle? Yes, you guessed right! Proxies will help you in this case as well. With some good IPs you will be able to hide your real location and replace it with the one specified in the survey.
In this article we will uncover the best proxy solutions to help you participate in the top online paid surveys. You will learn what types of proxies are best suited to be used with well-paying survey companies where you can make some extra money. We will also tell you what proxies should be avoided not to subject you to the risk of being banned by anti-bot or other protection tools.
The Most Popular Types of Survey Proxies
Now, let's consider several types of proxies by their origin to identify IPs best fitted for survey websites.
Residential Proxies
Of course, residential proxies for sale from your provider can be seen as an ultimate tool for the mission. With residential IPs for surveys you will be able to have a geo-targeted IP through peer-to-peer networks that will match the survey site's requirements, and you will most likely never get caught by the anti-bot system. Even if your target site is using HTTP cookies to avoid abuse by scraping bots, with residential proxies you will have very high chances of success in all kinds of survey missions.
We will cover all the advantages of residential proxies for surveys below but for now you should know that you can definitely consider them as your primary option.
Datacenter Proxies
Datacenter proxies will serve you the IPs of cloud-based hosting companies, which will not be residential IPs of some real people. You can get with this option alright on some survey sites that require logins with social media accounts or out-of-location survey sites.
In some cases you can even go for rotating datacenter proxies, if you need to perform survey fill outs from multiple accounts.
The biggest risk about using DC proxies for survey websites lies in a much higher rate of detection of such proxies by anti-bot systems than residential IPs. 
Shared and Public Proxies
As you can see from the name, the shared proxies are the IPs that you will share with the other users from the same proxy provider. These proxies may be quite affordable but are at the same time risky for secure web survey missions. You would be definitely better off with residential IPs for survey websites in most cases.
As for public proxies that you can find in some "free-to-use" proxy pools, you will be risking not only by getting banned on survey sites but also by leaking your credentials to the third party through using such IPs. Remember, when a digital product comes for free, you become the product.
Details of Using Residential IP for Survey Websites
As we mentioned before, proxies with residential IPs appear to be your best choice for conducting online surveys. First of all, such an IP means that you will appear as a legitimate physical user to your survey website and it can be geo-specific. For instance, there can be residential IPs for surveys in the USA where you can specify a state or even city for participating in a particular survey group.
In rare cases that you need to change your IP during your survey sessions, you can use rotating residential proxies with unlimited bandwidth based on a pool of IPs made of residential Socks5 proxies for survey. Here you need to make sure that your time intervals of sticky sessions will be sufficient for data entry. You can also use special apps for rotating your IPs such as Proxy SwitchyOmega. To find out the details on how to use SwitchyOmega Proxy read this guide here. And if in doubt, please consult with your account manager on this issue.
Another great advantage of using residential proxies for surveys is that they come with easy-to-use monthly plans. This way you can get high-quality proxies for surveys at a reasonable price strictly for the duration of your mission. If you take part in surveys on a regular basis, you will be able to select the number of IPs and geo details based on your requirements.
Survey Proxy Vs. Social Media Proxy
Well, survey proxies and social media proxies serve different purposes and , therefore, have different features. The choice between them depends on the specific needs and goals of the user. Where survey proxies are used for completing online surveys and reviews with social media proxies your main tasks will be managing multiple accounts or ensuring access to accounts from various geographical areas. The table below should clarify this difference.
| | | |
| --- | --- | --- |
| | Survey proxies | Social media proxies |
| Purpose: | Used for conducting online surveys or market research | Used for managing multiple social media accounts, scraping data from social media and overriding geo bans. |
| Modus operandi: | Ensure access to surveys otherwise unavailable for certain geographical areas or locations. | Ensure the availability of IPs to allow access to social media platforms from different locations. |
| Types of proxies and pricing: | Residential proxies from pools with a limited number of IPs. Usually more expensive than other types of proxies. | Residential or Datacenter IPs that come from larger pools of proxies. Usually more affordable than survey proxies. |
How to Choose a Trusted Proxy Provider For Surveys?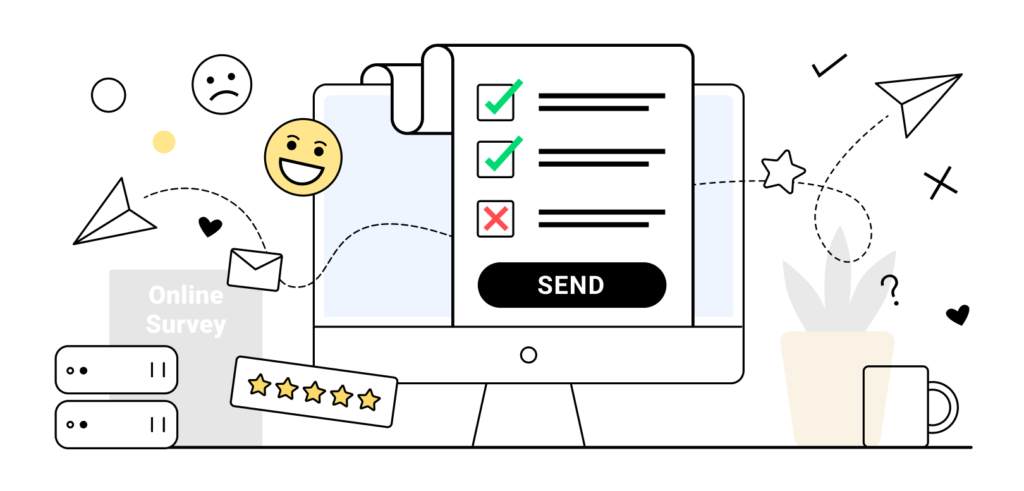 First of all, not all providers are capable of deploying and supporting proxies for surveys. And if we are talking about alternatives, like VPNs, not all the best VPNs for surveys can guarantee your success. You have to choose among those who already have a proven track record in this field and the ones with reliable tech support.
Now, the following are a few parameters that you have to check with the proxy providers before committing your funds to residential IPs for surveys.
Security Aspects
You should always remember that buying cheap shared proxy options from untrusted proxy providers will lead to loss or leak of your personal data. This way you can expose your PC data to the server that will eventually forward it to data miners without your approval. This risk is not pertinent solely to survey proxies. It is also true about using unverified private proxies for data scraping as well.
To avoid all that, make sure you check the history of your proxy provider and make sure you are satisfied with the level of tech expertise you will experience from your account manager.
Size of Proxy Pools
Another important thing to remember about using survey proxies is that survey sites also might have anti-proxy tools to prevent cases of abuse. In order to access such sites you will need to use proxies from a variety of pools. If your IPs start matching some patterns detectable by the site, all your proxy sets may be jeopardized.
Inform your proxy provider on the use of survey proxies based on your location and the location of the required IPs. This will allow your private proxies provider to select the right pools and make them available to you for use.
Online Surveys With PrivateProxy
We are glad that you are seriously considering us as a survey proxy provider. We are able to supply you with proxies from a whole variety of networks spanning from residential IPs to high-quality datacenter proxies. You can also order Asian, EU and US residential IPs for surveys.
So, if your survey site is not accepting workers from your region, with our servers this hurdle can be easily overcome. And, like with all trusted proxy providers, your pool of IPs will come coupled with round-the-clock tech support that will be always on your side should you have any issues running our proxies.If you are looking to start a survey career or just want to participate in a few survey rounds, our proxies will be of great help to your online endeavors.
Rate this article, if you like it:
Frequently Asked Questions
Please read our Documentation if you have questions that are not listed below.
What are survey proxies?

Survey proxies are private proxies that you can safely use for participating in online surveys. These IPs can help you override geo restrictions on some survey websites imposed on the participants. With such proxy servers paid surveys become available for participation for their users.

Can I use residential proxies for surveys?

Absolutely. Residential proxies will (in most cases) be your primary choice while taking part in online surveys. They can be geo specific, which will be super important in properly registering on such sites for filling out the required data.
What are the best proxies for surveys?

The best proxy options for surveys are residential proxies with geo specific IPs. In some select cases you will be OK with datacenter proxies and even rotating datacenter IPs. This is entirely dependent on the requirements of the survey site that you are interested in accessing.

Is it safe to buy all proxies for surveys from one proxy provider?

Surely. We definitely recommend you to build a lengthy successful track record with your proxy provider before you decide to move all of your proxy business to a single provider. On the plus side, you will also be able to have favorable terms as a part of your exclusivity deal.
Get 100% Clean DC & Residential Proxies
Contact Us